On the playground, a frustrated girl's jealousy clouds her inner thoughts and takes her deeper into hell, where she finds a shift in perspective.
Best VR Animation
Animaze Montreal International Animation Festival 2020
Best VR Short Demetera International Film Festival 2020
Best VR Austin Indie Film Fest 2020
Immersive Award VR Open World Animation Festival 2020
Best Virtual Reality Film Satisfied Eye IFF 2020
Official Selection of: SIGGRAPH Asia (Daegu), Animaze: Montreal International Animation Festival (Quebec), LUSCA Caribbean Fantastic Film Fest (Puerto Rico), FIVARS Festival of International Virtual and Augmented Reality Stories (Toronto), Red Rock Film Festival (Utah), Cyber Shorts VR Film Festival (Los Angeles), Demetera International Film Festival (Paris), BIFAN (Bucheon International Fantastic Film Festival) Beyond Reality (Korea), Bolton International Film Festival (UK), Aesthetica Film Festival (York, UK), SATISFIED EYE International Film Festival (Surrey, UK), Asian American International Film Festival (New York), Open World Animation Festival (Allentown, PA), New Media Exhibition: UFVA Virtual Conference, Geneva International Film Festival (Geneva).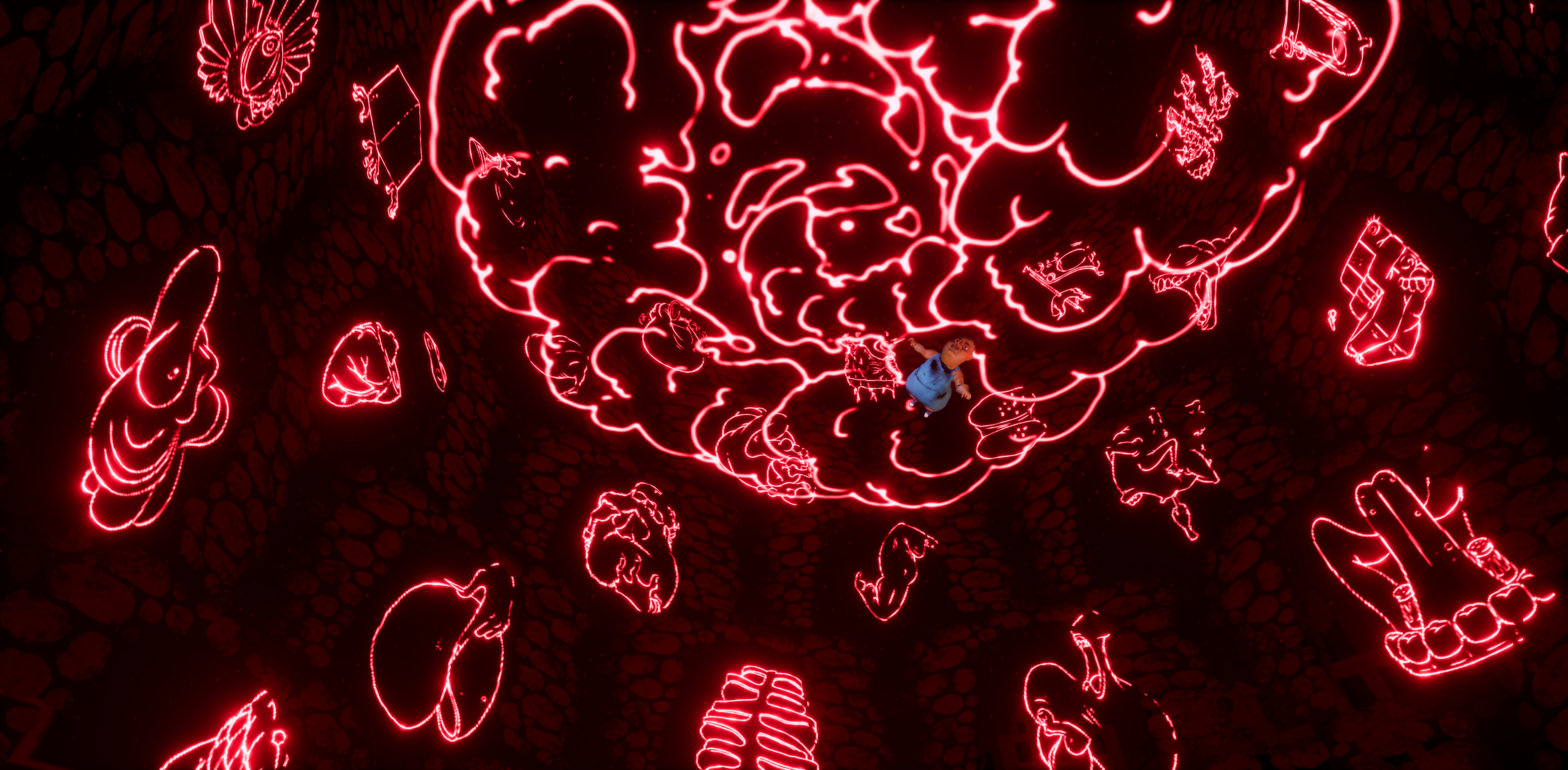 Director, 2D Animator, Quill Animator, 3D Designer/Modeler/Lead Animator: mari jaye blanchard
VR Director: Mark Reisch
Sound Designer: Vicky Mejia Yepes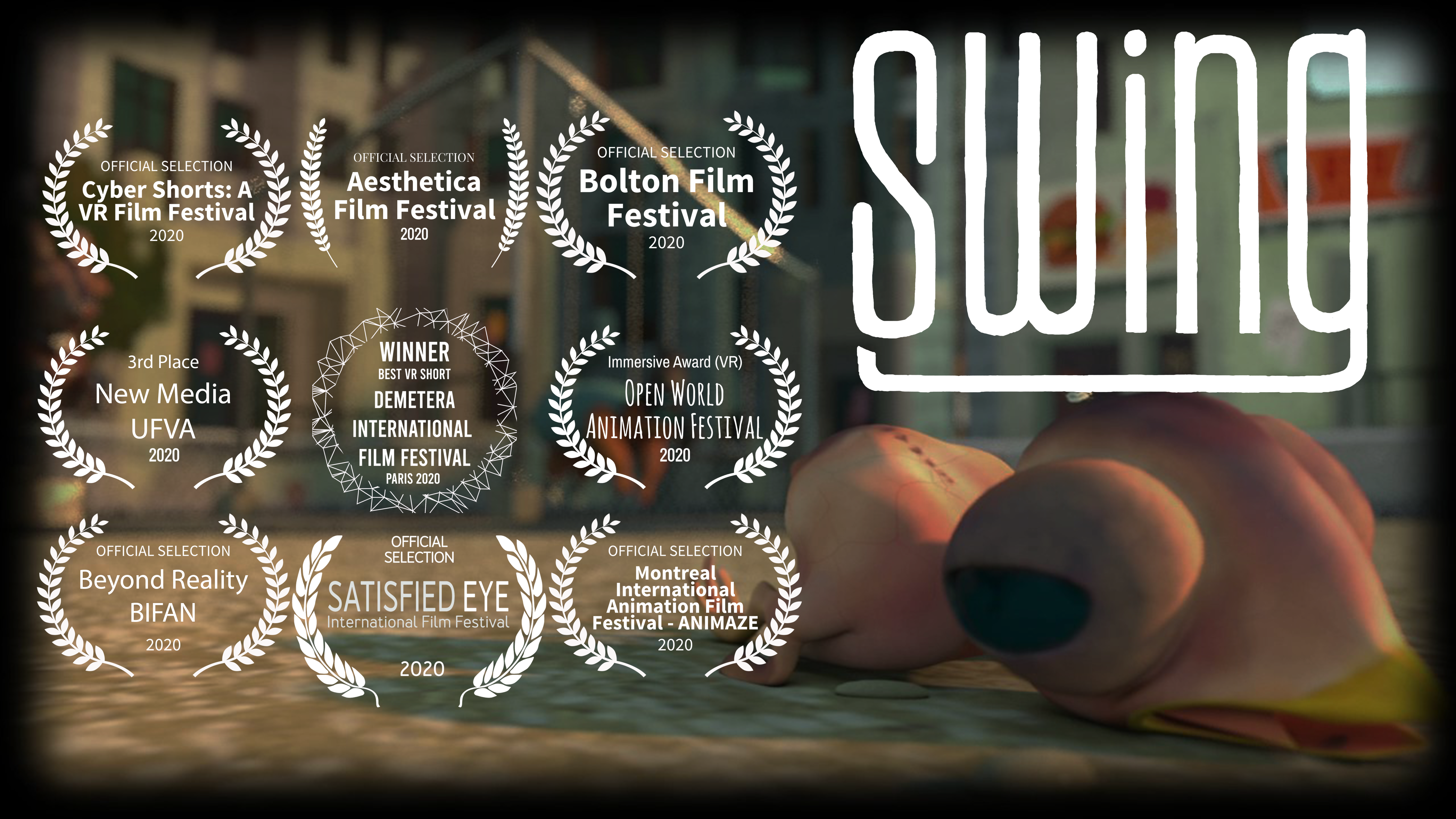 Swing is a narrative, virtual-reality film combining 2D, 3D and 2.5D animation techniques. The story unfolds in overlapping acts that depict the internal and external struggles of a frustrated girl who is attempting and failing to swing on a playground swing. As she struggles with the swing, she imagines the demise of the children swinging successfully around her, and anger builds until she ends up taking it out on herself.
This film utilizes Maya (3D), TVPaint (2D), and Oculus Quill (2.5D) combined in Unreal Engine. It was funded in part through an RIT FEAD grant and an Advance Connect grant, with support from MAGIC Spell Studios.
Because this film is currently being screened in festivals, a password protected play-through of the film can be seen here. A YouTube 360 version can be seen here.
A virtual build of our pre-production process (presented as part of the Birds of a Feather segment at the 2020 IEEEVR Conference) can be toured here.
My research for Swing also led to my 2019 presentation Line of Action: Two-Dimensional Animation in a Three-Dimesnsional Space as part of a Hybridity and Mixed Media in Animation panel at the University Film & Video Association Conference in Minneapolis, MN.
making of swing
a 2D animator enters virtual reality